News
We live in the green house -- you can't miss it!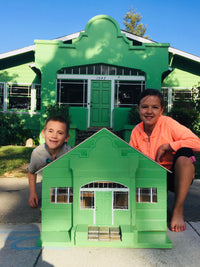 "We live in the green house — you can't miss it!!"  
That's what we always told everyone we invited over when we lived in California with Grandpa. Grandpa's house was green. And I don't mean just any green. It was what we affectionately named "Grandpa Green." (ahem... see picture above in case you missed it.)  I didn't love the green. Really no one did, except Grandpa. And I mean, he REALLLLY loved that green! He loved it so much that he painted his house that color. That's what it means to love a color.
Grandpa passed away in January 2016, and we were completely heartbroken. I mean, Grandpa was supposed to live to be 100! (Well that was my hope!)  Now, lest you think I make light of this, it's only to help me stop crying, and to have a good laugh. You see, Grandpa was so great at that. He lived life to the fullest, every day. He lost his wife, his three children, and a grandchild. Wow, I mean, WOW. Despite his losses, Grandpa chose to be grateful. He chose everyday to be happy and live life while he was here. And man, how I wanted to see him hit that 100 mark.
Grandpa was born September 5th, 1919 — a century ago. He saw the Golden Gate Bridge being built when he was seventeen. He was a postmaster... before zip codes. And he subsequently had a love-hate relationship with his iPhone. He saw so much. He did so much. He loved so much. Like the color green. And now, I love it too. I love it so much that we made a replica of Grandpa's house before we left California so we could always remember it. And, I love it so much that Grandpa Green became our "theme" color for Cura.Te.  It's the green in our logo. That's what it means to love a color.  And I think about Grandpa every time I look at our logo. 
This color reminds us of everyone's Grandpa Larry (because he was that to so many) and the unconditional love he showed us all. He truly embodied love. All around us.
Now, go hug on that special grandparent (or grandchild) in your life.  Grandpa truly meant the world to us and I feel so blessed to have had such a special relationship with him. I truly hope you have someone that special in your life! 
With much love and gratefulness,
Jenny
P.S. September 5th was also my mom's birthday. Yes, she was born on Grandpa's (her dad's) birthday, and I just think that is the coolest!
P.P.S. My birthday is in September, too. But let's be real. We all love September because of FALL!  All the craze now is PSLs (Pumpkin Spice Lattes) -- have you seen this?  It even has its own hashtag?!!  How about stocking up your home with something yummy and life-giving like #PSS (Pumpkin Spice Soap)?!! 
P.P.P.S. - Have you signed up to receive our emails yet?  Email subscribers get *extra special* treatment!  Email today that you've signed up and when you order our #PSS, you'll get extra love, too.