News
How do you feel about seeing yourself this close up?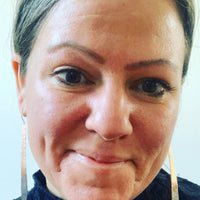 How do you feel about seeing yourself this close up?
Years ago, I would NEVER want a picture of me this close-up.  I would see every. Single. Flaw.
Now, I have many more "perceived" flaws than I did then… However, I have no problem looking at myself closeup.  What changed?
My mindset.  Yep.  I had to change the way I was looking at myself.  I had to choose love for that person in the mirror, not picking out every flaw.  Why is it that we are the hardest on ourselves?
Cura.Te is founded on the belief that we must care for ourselves.  We must have a full cup, so that we can care for those we love the most.  I don't know about you, but when my cup is empty, I don't have anything to give to anyone else.
So, that's why it is so important —- this self care.
Let me encourage you during this month of Love (and Valentine's Day coming up this weekend!) — so show that person in the mirror love.  
And of course :), we can help   !  We have amazing pampering packages in collaboration with @studio451jewelry, we have our Lavender Love package, and we have our Love Your Liver blends!  
Which one is best to care for yourself right now? Tag your Honey and send a hint— if you have one! (Check out our stories and go to CuraTeForLife.com).
With much love and gratitude for your beautiful face.
XO
Jenny