News
Created Together With The Smile Enthusiast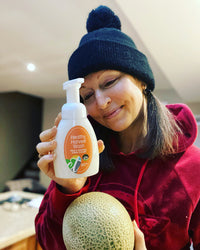 "Created Together with The Smile Enthusiast"...
Have ya'll tried our Healthy Harvest Fruit and Veggie Wash??… created together with, none other than @the_smile_enthusiast!  
What an honor and privilege to work with this amazing soul.  I couldn't be more grateful for her, and to be on this #FUTURECENTURIONLIFE journey with my friend and longevity coach!
Get this amazing product on your fruits and veggies today — there's no better way to clean them!  (Even those "natural" cleaners can have nasties in them!). Don't chance it — get yours today!
👇🏽
In case you do not know, Instagram (& Facebook, and other social media platforms) are doing some major censoring.  This is coming down the pipeline affecting everyone, including me.  Yep, my voice has been censored and I am growing concerned at how far this will go.
In light of that, I have joined another platform that (so far) is censor-free, IE — FREE SPEECH...just as it should be!  We all know the types of things that really should be censored, and talking about how to heal naturally and natural products from the earth is NOT one of them.
I'm super excited to let you know that on this new (to us) platform, I'll be doing a lot more collaborating with my friend, @the_smile_enthusiast.
The official announcement will be coming soon… stay tuned!  Be sure to sign up for our newsletter so that you are the first to know!  
PS - We are NOT leaving IG!  Just expanding our horizons!  But, just in case, be sure to get on our email list and follow us on this new platform —- COMING SOON!
#lovecurate #howdoyoucurate #curateforlife #cleanestproductsontheplanet #censorship #IGcensoring #FBcensoring #smileaerobics #durangocolorodo #livefree #freedomeofspeech #therighttofreespeech #naturalliving #naturalhealth #healfromtheinsideout #twittercensoring #veganproducts #freeyourmind #freeyourlife #freeyourself #healcancer #healcancernaturally #healdiseasenaturally #wearefree #plantbasedproducts #plantbasedoilfree