News
Your Body Hears Everything Your Mind Says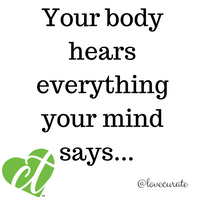 What are you telling your body today, Friend? 
Are you mad (even subconsciously) at your body because it doesn't look *exactly* like you want it to?  
Do you dislike looking at yourself in the mirror?  Does it scare you to look yourself in the eyes and say, "I love you!"
I remember reading this years ago from the Medical Medium, "If you or someone you love have been diagnosed with an autoimmune disease, chances are you've been told that your body is attacking itself. Hearing this probably stripped you of hope that you can heal and left you feeling betrayed by your own body. Today there are countless mysterious diseases that have been labeled as autoimmune conditions. But the problem is that the concept of autoimmunity is inherently flawed and this mistaken theory only hurts you and your loved ones in the end. Surprised? When we believe our own bodies are attacking themselves, we are unknowingly hindering our healing process. Our immune systems can weaken in the absence of this truth: Your body never attacks itself. It's always working for you and loves you unconditionally. It's never been more critical for you and your loved ones to know and feel this truth in your heart. It will greatly support you and those you care about to heal."
Wow!  BOOM!
Your body is always on your side.  It always is looking to help you and heal you.  Show it love today. 
And I just have to say to the women who have given life to another human being — Your body gave life to another human being!!!!!  Embrace it. I know it's different afterwards and may never go back to being the "same" as it was before….but, your body brought life into this world.  Is there anything more amazing than that miracle?
Be sure to subscribe to our tribe if you haven't yet.  Tomorrow will be a very special email and one that is very near and dear to my heart as it involves my baby, Avery, and something amazing she has done for me!  
Be sure to join our tribe — CuraTeForLife.com, wait for the pop-up on this website to subscribe!
Remember that your body is fighting for you.  Thank it today.  Your body is your friend!  Talk to it like you would your best friend.  
#medicalmedium #lovecurate #durangocolorado #loveyourself #begoodtoyourself #autoimmune #autoimmunity