News
Laughter Is Internal Jogging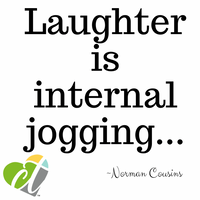 "...It moves your internal organs around.  It enhances respiration.  It is an igniter of great expectations." ~Norman Cousins
Norman Cousins lived from 1915-1990.  I first learned about him from my grandpa, as they were essentially the same age and grew up in the same era.  Cousins was a longtime editor of The Saturday Review, and received the UN Peace Medal and over 50 honorary doctorate degrees.
In 1964, he was diagnosed with ankylosing spondylitis, a degenerative disease causing the breakdown of collagen.  This diagnosis occurred after he returned from a very stressful trip to Russia (you know how I talk about stress affecting the body negatively!).  People with this diagnosis were given a 1/500 chance of surviving.  He was in constant pain saying that morphine would not even help him, and was given a few months to live.
Cousins contemplated his stressful trip (as he had not been sick before that), and reasoned that if stress (negative emotions) had been the cause of this disease, then positive emotions could perhaps help him to heal.
At the time, he was in the hospital where doctors expected him to stay until he died.  He was bedridden, having lost the use of his limbs, and his jaw had nearly locked shut...
Now, stayed tuned….tomorrow I will tell you "the rest of the story". (who remembers Paul Harvey here?)
I told the whole story in my newsletter, so many of you may already know it from that… and it is a gem of a story worth staying tuned for!!
What would you do if you were diagnosed with a dis-ease that has a 1/500 "chance" of survival?? 
(PS - I don't believe that anyone can truly make this kind of determination, let alone tell anyone how long they are going to live.. but that's another story for another day, too..)
#lovecurate #curateforlife #normancousins #healyourselfwithlaughter #laughyourwaytohealth #futurecenturionlife