News
It's Thousand Island Dressing!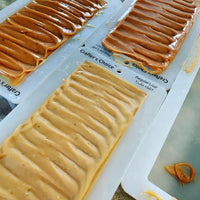 It's thousand island dressing…!
Ha! Ha!!
So fun making our calendula soap and watching the colors change.
This has to be one of the coolest things that happens when we make soap … the changes in color!
Scroll through the pics to see the transformation of the color in a matter of minutes it goes from this "thousand island" color to the light yellow from the organic lemon peel we add to the batch.
How cool is this?

Who loves our calendula soap as much as we do??
#calendula #calendulasoap #organiccalendula #organicsoap #lemonpeel #lemonpeelpowder #organiclemon #organiclemonpeelpowder #calendulaflowers #organiccalendulaflowers #durangocolorado #organiccolorado #organicdurango #safeforeveryone #safeforbaby #nongmosoap #nongmo #glutenfreeforbody #glutenfreeproducts