News
Let Food Be Thy Medicine...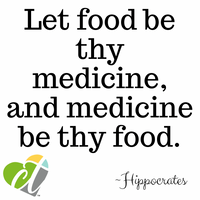 For the last several weeks I have shared with you some of the things I feel that contributed to my mom's Early Onset Alzheimer's disease, such as aluminum and other heavy metals.  I've shared with you some of the things that I do in my life to try and combat this disease to the best of my ability.
Today, I would like to share the medicine I would give my mom if I had the chance to help her heal.  I would implement this medicine immediately in my life if I had any signs of memory loss/dementia. The medicine? 
Food. 
As Hippocrates, the Father of Medicine, stated, "Let food be thy medicine and medicine be thy food." With each bite we are taking, we are either feeding life to our bodies, or death. Just think about that!
These are some specific (organic) foods I would implement immediately:
Wild blueberries (*make sure they say wild)
Apples 
Walnuts (looks like the brain = good for the brain!)
Cilantro
Basil
Parsley
Oregano
Rosemary
Thyme
Ginger
Kale
Swiss Chard
Dandelion Greens
Arugula
Beet Greens
Broccoli Sprouts
Mustard Greens
Flax/chia seeds
Garlic
Onions
Oranges
Grapefruit
Spinach
Cauliflower
Kiwi
Papaya (and seeds)
Bell Pepper
Guava 
I would also:
*Strictly drink water with a high silica content.
*Add fresh lemon (or lime) to the water and drink upon rising. You can drink additional lemon/lime water throughout the day as you'd like as well. Add the juice of one lemon to 16 oz/water.
*Drink fresh celery juice (16oz-32oz)
*Consume turmeric (in food and/or supplement)
*Consume ceylon cinnamon (3 grams/daily)
*Consume extra virgin organic coconut oil (2 TBS 2-3 times/daily)
*Drink 1-2 Heavy Metal Detox Smoothies & Juices/day (recipes below)
*Eat a plant based diet (no animal products - meat (any), eggs, or dairy) and organic food 
*Implement our 4 Step Anti-Alzheimer's/Pro-Brain Medicinal Herbal Protocol — get it in ya!
Which of these practices do you do on a daily basis to nuture your noodle?
#letfoodbethymedicine #letmedicinebethyfood #hippocratessayings #nutureyournoodle #healfromalzheimers #coconutoilforalzheimers #fijiwaterforalzheimers #heavymetalsdetoxsmoothie #heavymetaljuice #ceyloncinnamon #cinnamonforhealing #celeryjuiceforautoimmune #lemonwaterfortheliver #lemonwater #limewater #cleanestproductsontheplanet #futurecenturionlife #howdoyoucurate #lovecurate #antialzheimers #probrain #wildblueberries #hipporcrates #earlyonset #earlyonsetdementia #earlyonsetalzheimers #healyourself #healalzheimers #healyourselfnaturally #planetbased